Return to Headlines
Summer Britcher '12 Named Distinguished Alumni for 2020
The Susquehannock High School Alumni Association Steering Committee named Summer Britcher as its "Distinguished Alumni" for 2020. Britcher will address the graduating class during commencement services and will be honored with a plaque in the High School's auditorium lobby.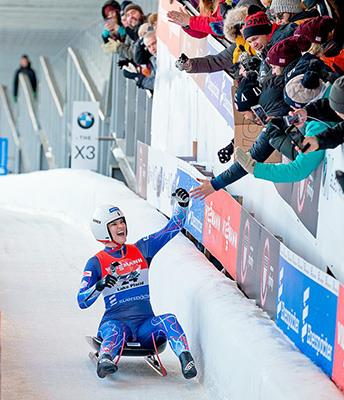 Summer grew up in Glen Rock, Pennsylvania. She was introduced to the sport of luge in 2006 through a recruitment program at Ski Liberty. She has been a member of the USA Luge National Team for the past seven years and has competed in two Winter Olympic Games, 2014 and 2018.
Summer has had an amazing athletic career. As of 2020, she has the most World Cup wins of any individual USA Luge athlete, with five World Cup wins. She has captured 22 World Cup medals, two Overall World Cup bronze titles, a World Championship Bronze medal, and she won a Youth Olympic Gold medal in 2012 while attending Susquehannock.
"I am so honored to have been named the Distinguished Alumni for 2020. I grew up a mile down the road from Susquehannock. When my athletic career grew, it became impossible to pursue a traditional high school education. I transferred between three different high schools to make it work, but it was always so important to me that I graduate from SHS and to have that tie to the community I grew up in," said Summer. "I am excited to go back and see some of the many teachers and staff members who made it possible for me to pursue my dreams while getting an education," she added.
She lives and trains in Lake Placid, New York. In 2019, she was elected by her peers and competitors to serve a four-year term as an International Athlete Representative to the International Luge Federation (FIL). Summer is also a member of the FIL Technical Commission, which oversees the rules and regulations of Luge. She is actively involved with the Strategic Planning Commission, which determines the future of the sport. Summer is currently pursuing her Bachelor's Degree in Communication and training for the 2022 Winter Olympics in Beijing, China.
As a Warrior, Summer ran cross country, played tennis and soccer and was named a county All-Star in soccer. She competed and won a Gold Medal at the 2012 Winter Youth Olympics.

Summer's career statistics are as follows:
2012 Youth Olympic Gold Medalist in Team Relay

2014 Winter Olympian, 15th place

2018 Winter Olympian, 19th place, 4th in Team Relay

22x World Cup Medalist

5x World Cup winner

2x World Cup Overall 3rd, 2018, 2019

2017 u23 World Champion

2020 World Championship Team Relay Bronze medalist

3x National Champion

2x Youth Overall World Cup Champion